Accounting Services For Personal Real Estate Corporations
NEW TAX LAWS ALLOW ONTARIO REALTORS TO CUT THEIR TAX RATE FROM 53.53% TO 12.2%
With a Personal Real Estate Corporation (PREC)
Ontario Finally Allows Realtors To Incorporate
The ability of Ontario REALTORS to form Personal Real Estate Corporations (PRECs) comes from the Trust in Real Estate Services Act, 2020 ("TRESA") and is governed primarily by Regulation 536/20 under the Act, which came into force on October 1, 2020.
As of that date, real estate salespeople and brokers may incorporate in Ontario and arrange for their self-employed revenue to be paid into a PREC. Many real estate professionals will choose to incorporate to take advantage of certain tax benefits. However, there is a lot to consider before you form a PREC.
Forming a PREC is a complex task with a number of considerations that may differ depending on every REALTORS own business situation. The advantages of forming a PREC can be significant, but only exist only if it is set up correctly in accordance with your business, family and personal circumstances.
If you are considering setting up a PREC, you should speak with a Tax Expert knowledgeable in accounting services for Personal Real Estate Corporations.
Personal Real Estate Corporations Provide Tax Advantages For Realtors

Low Corporate Tax Rate
One of the greatest advantages incorporating is being able to leave money inside a corporation and pay only 12.2% corporate taxes instead of taking the income personally and being taxed at your personal tax rate which could be as high as 53.53%.

Income Splitting
Income splitting allows you to share income with family members. Income splitting strategies are specific to the corporation's situation and can have negative implications when not done properly. Typically, the directors of the corporation and the accountant will make the decisions on such strategies as part of their annual tax planning.

Income Smoothing
One of the disadvantages of a sole proprietorship is that you must take all your earnings into personal income in the year in which you earn the commission. With a corporation you have the ability to smooth that income over a longer period of time. Since Canada has a marginal tax system avoiding peaks and valleys will lower your total tax burden.

Home and Auto Loans
It is possible to borrow income from your own corporation, which can be very tax effective. You can borrow money from your corporation for the purpose of purchasing a car or a house, but, you must pay the prescribed Canada Revenue Agency interest rate and set up the formal minutes for the loan.

Advanced Tax Strategies
There are a number of additional tax strategies that are available to corporations that are not available to sole proprietorships. Including but not limited to life insurance strategies, capital gain exceptions, holding companies and we endeavour to maximize the available tax deductions for our clients. We are able to reallocate out of pocket expenses to be deemed as a corporate expense and results in significant value added service to the client.

Tax Deferral
A corporation eligible for the small business deduction pays tax at 12.2% on its first $500,000 of taxable income. The remaining tax, which is paid by the shareholders upon receipt of dividends from the corporation, is deferred until dividends are paid. When dividends are paid the balance of the tax is levied on the Shareholder.
Bare Minimum
The Basic Incorporation Package
Standard
Includes Minutes and Shares
Small Business
Includes Website & Business Cards
Other Accounting Services For Personal Real Estate Corporations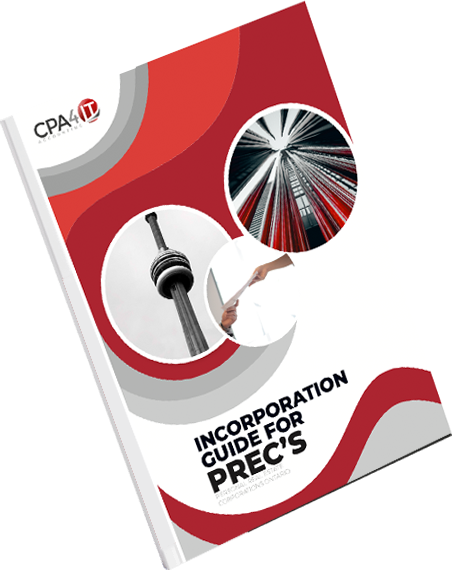 When structuring a business, realtors face many decisions about how to best set up their companies. Is a sole proprietorship, partnership, or incorporation the best option? Are you trapped into a specific model as your business evolves? How can you set yourself up for the best tax situation possible? Our PREC Guide was designed to help both fledgling companies and established realtors navigate their financial planning so that they make the most of their time and investment.
CPA4IT focuses specifically on maximizing your financial benefits to help you have the security to grow and improve your business. Our services include all the important aspects of your finances, such as:
Why Hire a Tax Accountant?
If you plan to manage your finances on your own, you open your business up to a high potential for errors that could cost you a lot. An experienced accountant can take care of all your financial responsibilities to put you in a healthy financial spot.
At CPA4IT we can manage your finances and generate a financial legacy.
As a family-owned business, we take pride in helping small businesses grow. If you would like to schedule a free consultation with a small business tax accountant at our firm, call us today at 1-800-465-7532.
Your Personal Real Estate Corporation

It can own property, insurance policies, and make investments.

It owns the real estate business and you work for the PREC

It can keep any money that you do not require for daily personal expenses and use that money for other investment purposes

It owes and pays taxes and files its own tax returns, and other filings such as HST and payroll submissions

It will need to decide how to distribute money to you and possibly to your family members
Is forming a personal real estate
corporation right for you?
There are a number of factors to consider when deciding to form a PREC. It is strongly advised to work with a financial professional that provides accounting services for Personal Real Estate Corporations and is knowledgeable on the many tax strategies that are available to realtors and can determine if forming a PREC is right for your personal and business situation.
When beginning to think about whether forming a PREC is the right decision for you, consider the following questions
Frequently Asked Questions